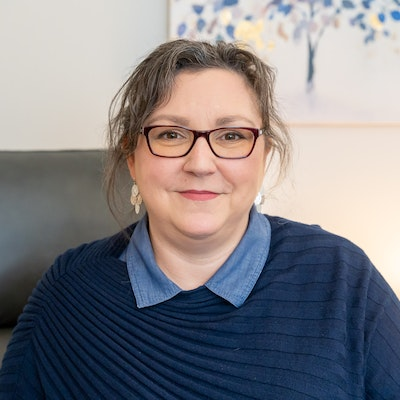 Greetings!
I'm Vanessa Gallagher (she/her) a Licensed Professional Counselor (LPC) and certified EMDR therapist working with both individuals, parents, couples and businesses throughout Texas.
I grew up in Austin long before our city became famous for breakfast tacos, live music and outdoor festivals. After finishing my Master's degree in Human Services at St. Edward's University (go Hilltoppers!) I spent time living in the Hill Country before moving with my husband and kiddo to California and then back to Austin.
When I am not doing my work thing in my home-away-from-home office, you can find me adding to my collection of books, scheming on where to find the best iced coffee or just hanging out with my family which includes the best dog in the whole world and two above-average cats.
Approach
In a nutshell, I am a relationship therapist in the broadest sense; I help folks build healthy relationships with their self and others. I approach my work through an integrated framework drawing from EMDR, interpersonal neurobiology, somatic approaches, IFS, polyvagal theory, cognitive behavioral, mindfulness, Gottman, trans and neurodivergent affirming models.
As a person and a professional my intention is to be inclusive and welcoming to all. Creating a space in which others feel safe is always my goal, but it is not up to me to say or define what that means to any one person. It is however my job to open the dialogue and make room for that conversation to happen again and again.
I am LGBTQIA+ affirming and continue to humbly learn how to move within this community as a guest. I work with gay, lesbian, bi, queer, ace, aro, trans, nonbinary and other folx in the community, including those who may not be sure if they are part of the community or not.
I practice through a neurotype-informed, Social and Rights model and actively seek to learn and understand more about the experience of Autistic folks, ADHDers and others in the ND community.
If we work together I am going to come to know quite a bit about you, I think it only fair you know a little about me. I try to be transparent in my work and about who I am; I've done my own therapy at different times throughout my life and know it can be intimidating to be on the "other side of the couch." My goal is to be approachable and real at all times. Being human is hard, approaching a relationship with a therapist can take courage and I want to make both as easy as possible.
Doing this work from my side of the couch naturally puts me in a position of power and I recognize this power differential can lead to harm if misused or unacknowledged. In addition to my positional privilege I also carry social privilege: I am a cisgender, straight, married, white, neurotypical, educated, financially secure female. I recognize my privilege can be a blinder for me and it is incumbent on me to do the labor to make space for others' experience and existence. I am parenting an Autistic, ADHD child and am married to a neurodivergent spouse so bring that lived experience to my work with parents and partners.
I really like this quote by Pema Chödrön and think is nicely sums up my idea about the therapeutic relationship:
Compassion is not a relationship between the healer and the wounded. It's a relationship between equals. Only when we know our own darkness well can we be present with the darkness of others. Compassion becomes real when we recognize our shared humanity - Pema Chödrön
Focus   
Psychotherapy & Parent Coaching
Through my psychotherapy practice much of my work focuses on helping people regain a sense of connection and balance in their lives. Our sense of self and relationships can be challenged by trauma, depression, anxiety, substance abuse, infidelity, health problems, grief or the natural growth and development of life. As a professional I've been working with kids and families for more than 25 years. I am also a parent taking the good with the difficult times. I love working with parents to help normalize the craziness of raising kids. I provide a personalized approach to help you regain your equilibrium and grow in your relationships.
Organizational Consulting
Businesses and organizations are an extension and reflection of the people who work within their walls. Wise organizations recognize this and seek to support the whole person and thus the whole company. Gallagher Counseling provides behavioral health & wellness services, crisis intervention, leadership training and support.
Background
I have a broad base of experience working with children, families, couples and individuals in a variety of settings since beginning my career in human services 30+ years ago. I have clinical experience working in child & family services, juvenile justice, community mental health, youth residential treatment, employee assistance programs, corporate wellness, and private practice. I also have experience working with law enforcement and first responders.
My organizational leadership experience includes leading teams to deliver behavioral health and wellness services to small rural communities and large Fortune 500 companies, providing manager consultation services, workplace violence prevention and critical incident response management. Through Gallagher Counseling I partner with organizations to create employee and community training, policy and procedures, mental health initiatives and a wide range of behavioral health and wellness program offerings.
In addition to being a Licensed Professional Counselor, I am also a Texas LPC Board-approved supervisor offering training and supervision for new counselor associates. I am a certified EMDR therapist and previously obtained certification as a Trauma Specialist. I am trained in the experiential models as an EAGALA Facilitator for Equine Assisted Psychotherapy and Equine Assisted Learning.
Issues and Concerns
Over the years I have had experience addressing a wide range of issues. This breadth of experience has allowed me to build knowledge of and empathy for so many different challenges we as humans face.
Trauma
Grief and Loss
Depression
Anxiety
Substance Use
Divorce
Parenting Skills & Difficulties
Relationship Issues
Domestic and Workplace Violence
Phase of Life Transitions
First Responder Support
Organizational Behavioral Health & Wellness Management
Manager Consultation & Development
On-site Crisis Response & Management
Mandatory Referrals
Want to see if we're a good fit? Reach out to schedule a free 15 minute call.